2018 HACR SYMPOSIUM RECAP
The 26th Annual HACR Symposium: The Power of Hispanic Inclusion™ was held on May 4-6, 2018, at the Four Seasons in Las Vegas. This event brought together nearly 200 of the nation's most influential Hispanic government officials and corporate executives to discuss strategies for increasing Hispanic inclusion in the areas of Employment, Procurement, Philanthropy, and Governance. On Monday, participants started the day with a networking breakfast where HACR President and CEO, Cid Wilson presented HACR a Year in Review.
Target Chief Human Resource Officer, Stephanie Lundquist and PepsiCo Executive Vice President of Global Operations, Grace Puma, delivered sponsor remarks at the Symposium kick off. This provided HACR's co-hosts PepsiCo and Target Corporation, the opportunity to highlight their company and greet attendees.
The CEO Action for Diversity and Inclusion is the largest CEO-driven initiative to advance diversity and inclusion for Corporate America and was featured during symposium. This panel addressed how to cultivate workplaces that open dialogue, plan action items and implement D&I strategic plans. PwC Chief Purpose Officer, Shannon Schuyler moderated A Conversation on the CEO Action for Diversity and Inclusion where Alliant International University President, Andy Vaughn; CSAA Insurance Group President and CEO, Paula Downey; Hall Capital Partners LLC. CEO and Co-Chief Investment Officer, Kathryn A. Hall; and Orrick, Herrington & Sutcliffe, LLP. Chairman and CEO, Mitch Zuklie discussed best practices in diversity and inclusion. Watch the full session in the video below.
This year's Symposium lunch featured PepsiCo Global Operations Executive Vice President, Grace Puma as the keynote speaker with sponsor remarks from Marriott International Vice President of Multicultural Affairs, Apoorva Gandhi. American Petroleum STEM Research Scientist & Consultant, Carlos Rodríguez, Ph.D. moderated Workforce Development in the Future with AT&T VP of HR, Diversity and Inclusion, Melissa Corwin; NBCUniversal VP of Diversity and Inclusion, Salvador Mendoza; and Microsoft Director of Global Field Empowerment, Leonardo Ortiz Villacorta as its speakers.
These executives identified the workforce skills gap and implemented innovative workforce programs through their investment in human capital within their communities and corporations. Deloitte Managing Director ITS Talent & Inclusion, Damaris "Dee" Garcia Schneider; DTE Energy Vice President, Legal and Chief Tax Officer, JoAnn Chavez; and Bank of America Senior Vice President Philanthropy Director, Dannielle Campos were panelist for Latinas in the C-Suite moderated President and CEO at MANA, A National Latina Organization, Amy Hinojosa. These women are pioneers leading their respective fields, advancing diversity and inclusion in Corporate America. They told accounts of their obstacles and how they persevered to achieve success in their career. Sponsor remarks were provided by Nationwide Associate Vice President of Talent Acquisition, Danielle Johnson.
The second day of the 26th Annual HACR Symposium started with Executive Session with Caroline Wanga where Target Chief Diversity & Inclusion Officer, Caroline Wanga spoke on authenticity, and how to get noticed to gain opportunities of employment, promotion and a positive reputation.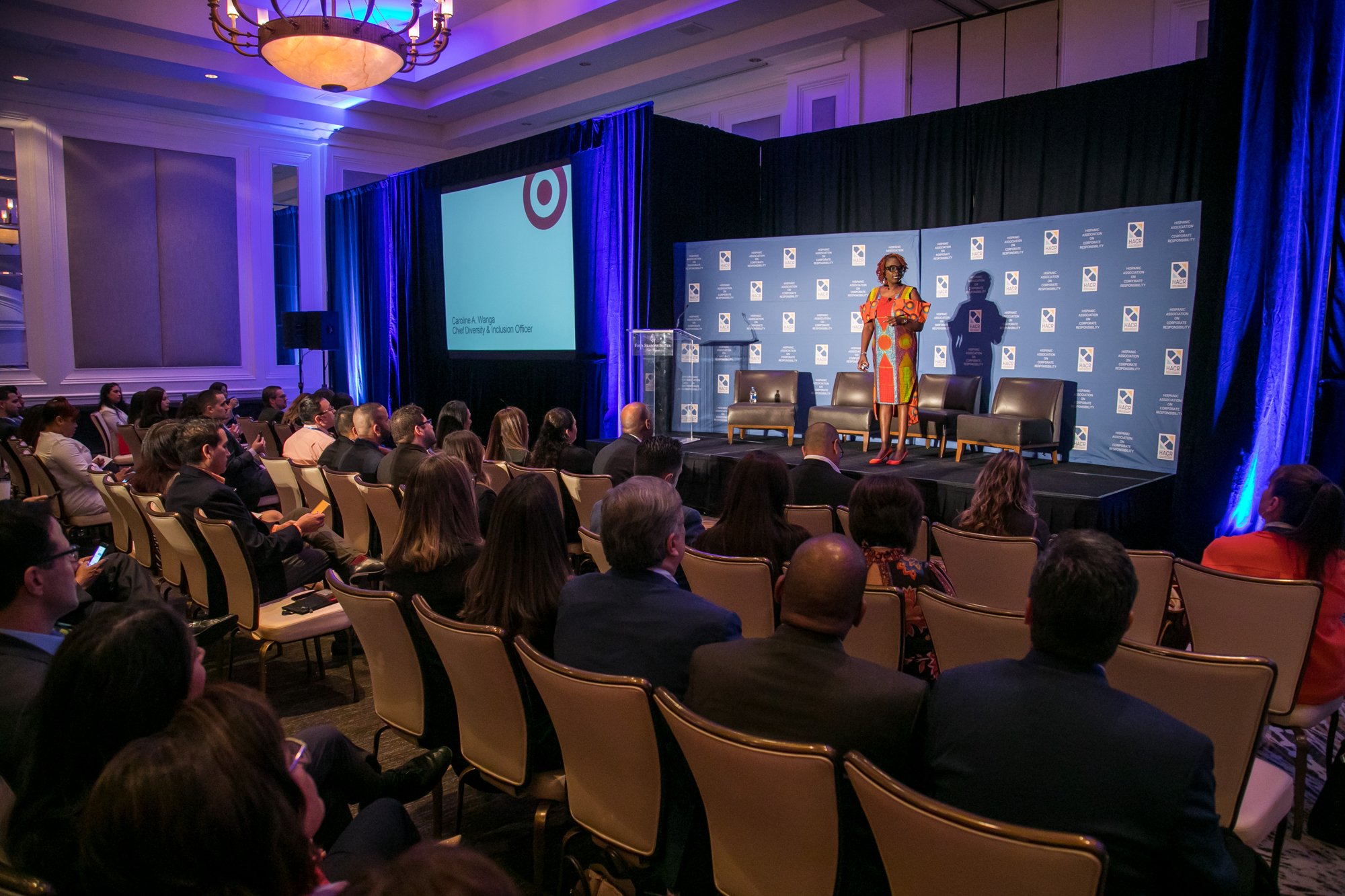 CDO Perspectives: Redefining the Narrative panelists included Walmart Inc Senior Vice President and Chief Culture, Diversity and Inclusion Officer, Ben Hasan; eBay Chief Diversity Officer, Damien Hooper-Campbell; Caesars Entertainment Corporation Social Impact and Inclusion Vice President, Gwen Migita; moderated by TIAA Senior Director Talent Acquisition Campus, Diversity Talent Partnerships and Employment Brand, Nereida (Neddy) Perez.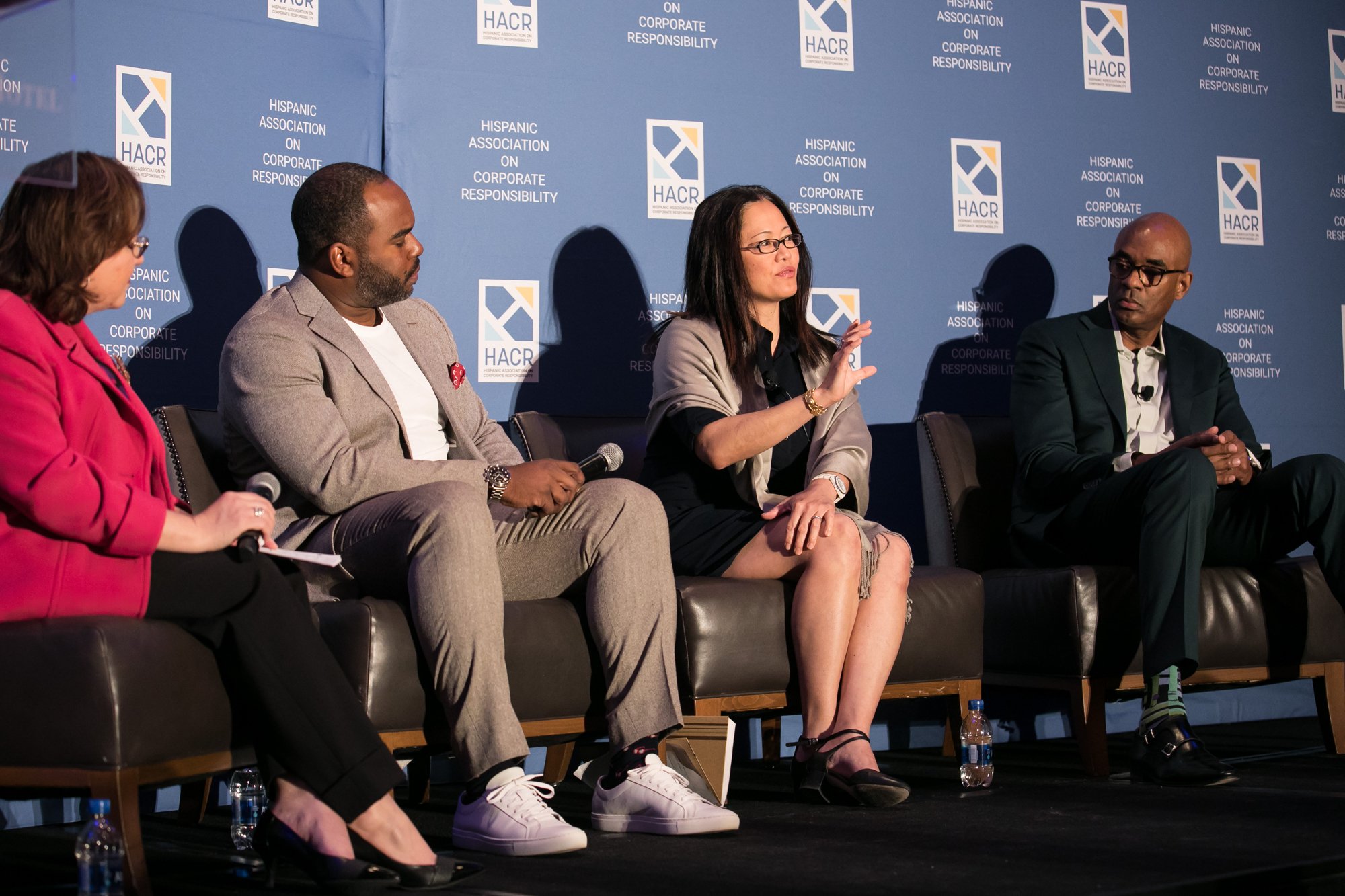 These panelists shared strategies for building and sustaining a diverse workforce and engaged the audience in a lively conversation. After the CDO Perspectives panel, attendees went to lunch sponsored by Ford which was held at the Mandalay Bay Convention Center. BP CEO of Global Aromatics, Luis Sierra was the keynote speaker and sponsor remarks were given by Ford Motor Company Fund Manager of Community Development, U.S. & Latin America, Joedis Avila and YHCA sponsor remarks by Altria Group VP of Region Sales, Scott Meyers .
After lunch, participants moved to Symposium's last session, the HACR CEO Roundtable. This session was moderated by Emmy award-winning journalist and anchor for Telemundo Norma Garcia who interviewed Deloitte Consulting LLP Chairman & CEO, Janet Foutty and Edison International President & CEO, Pedro Pizarro. The forum focused on how these Fortune 500 CEOs implemented inclusive employment and retention strategies and ways to diversify corporate boardrooms.
Our symposium concluded with the HACR inaugural awards & recognition gala with Miller Coors as our Pre-Gala Reception Sponsor and MGM Resorts International as Gala Host Sponsor. This dinner celebrated the achievements of Hispanic corporate executives and corporations supporting Hispanic diversity and inclusion. MGM Resorts International Chairman & CEO, James Murren gave remarks and shared his perspective on diversity and Hispanic inclusion. The post-gala celebration featured grammy nominated singer Leslie Grace at the Foundation Room of the House of Blues and was sponsored by MGM Resorts International. MGM Resorts International Vice President of National Diversity Relations, Tony Gladney gave sponsor remarks. Click below to see the 2018 HACR Annual Symposium Video Reel.