HACR Concludes 2019 Leadership Pipeline Program
The 2019 HACR Leadership Pipeline Program was held on May 19-21 in San Jose, Calif. The program started with a welcome reception sponsored by Target and MillerCoors. Throughout the two days, there were a series of speakers who covered various topics such as C-Suite perspectives, transforming Corporate America, and recoding your executive potential. Continue reading to learn more about some of the sessions.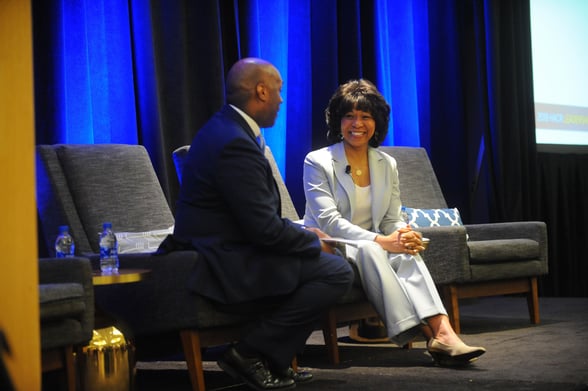 The Corporate Playbook with Deb Augustine Elam
HACR President and CEO Cid Wilson met with author and executive coach, Deborah Elam to discuss tips on how young executives can move up the corporate ladder. "Learning etiquette practices inside and outside the workplace will open career opportunities" said Elam. She advised participants to dress for success, do everything you do extremely well, read always, go to events, particularly those that allow you to be around people who are different than you.
She also explained that leadership pipeline professionals should think of career movement in terms of compartments. Twenty-five percent of your job starts with learning. Understanding the culture, position, colleagues, and tools. After the learning curve, the next phase is the executive mode, which is roughly fifty percent of the time someone is in their role. The last twenty-five percent is the tale end of your position, when the job gets stale. Elam states that when you get to that point, ask for more growth or responsibility in your company and if there is no opportunity, then it's time to look elsewhere.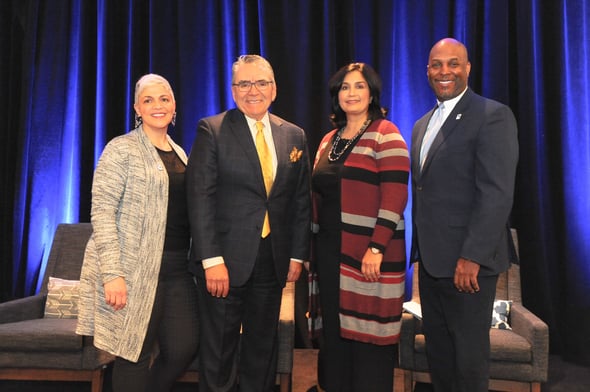 What Every Company Needs: Courageous Leadership
Honorable Ron Gonzales, former Mayor of San Jose and President & CEO of Hispanic Foundation of Silicon Valley and Bank of America Business Controls Strategy and Support executive, Life and Speciality Services, Silvina Salazar discussed what is courageous leadership and how can one achieve it. Gonzalez said taking risks and not being silent is one way. When leading it is important to demonstrate bravery by having tough conversations and build real solutions. He urged those representing a corporation, to shed the color blind mindset, and point out the bias. Doing this will help advance Latino leadership in the community. The journey of the Hispanic executive journey is not complete, unless you give back and help others.
Salazar spoke on how drive gives strength. She told her story on how she traveled across the country to learn more about the HOLA organization. Her drive let her to launched two chapters the in northerns and southern California. In nine years employees from 700 to thousands were involved. She felt empowered and supported by the company to to do action. "Work through the circle of influence to get feedback, find a way to communicate the benefits to your ideas, get allies, push your cause and recognize what you will say may make you uncomfortable."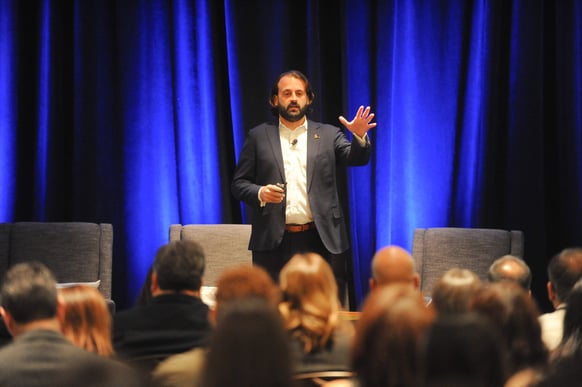 Defining your Exeqpath by Cultivating Connections & Strategic Partnerships

Fernando Rosario discussed a series of topics with Leadership Pipeline Program participants from recognizing resistance from individuals, building executive presence, personal branding, strategic relationships and more.
Should executives aim to be liked or to be respected? Rosario is a strong advocate in performing actions at the workplace that will gain your respect than trying to be liked at a personal level. "All the important decisions about you will be made when you are not in the room. And the more significant the opportunity the more important executive presence becomes". Decision makers make judgements based on what they see, how you communicate, what you know, how you behave, and your own personal branding. He advices everyone should seek a couch rather than mentor. A coach can help unlock your own potential while a mentor wants to know what you can bring to the table and have a transactional relationship. Sponsors are those who speak about you and are your greatest advocates.

Coping with

Bias
FranklinCovey Global Client Partner, Pamela Fuller defines bias, as a preference in favor of or against a thing, person, or group compared with another. It may be held by an individual, group, or an institution. It can have have negative or positive consequences.
Companies in the top 25% on gender and racial diversity are more likely to over-perform in relation to their industry peers. Diverse teams that act inclusively, make better business decisions 87% of the time. D&I organizations are more innovative.
Lunch with Former PepsiCo Vice President of Multicultural Sales and Community Promotions, Richard Montanez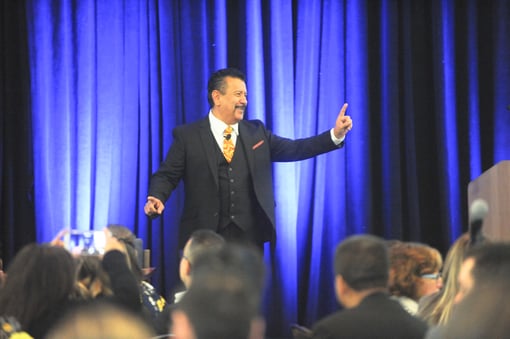 During lunch participants had a chance to hear from Richard Montanez, a PepsiCo executive who got his foot in the door as the company's janitor. He told his rags to riches story, sharing how as a janitor, he had access to PepsiCo top food and beverage decision makers and took a chance to share his idea for a new Cheeto chip flavor.
One day, he dipped the original Cheeto chip into a Mexican hot sauce his wife prepared and a light bulb went off. He called one of the PepsiCo's executives assistant and boldly asked for a meeting with the executive team. He thought they would say no, and yet, the meeting was set up.
The team rather skeptical and some wondering why they were presented an idea from a janitor tasted the prototype chips Montanez and his family prepared the night before. The team loved the flavor, now knows as Hot Cheetos. From there his life changed and now years later, these chips have grown in popularity worldwide.
He motivated the audience with his heartfelt story of drive, perseverance, and self respect.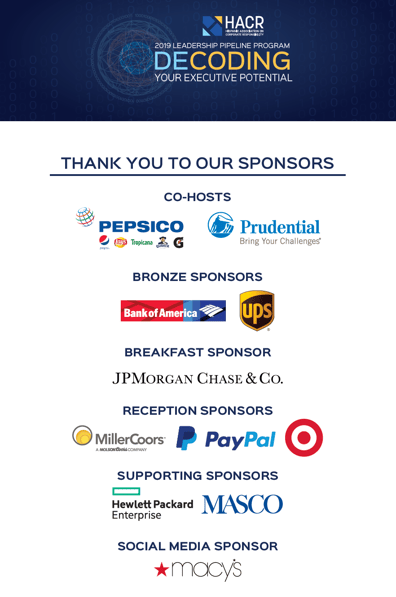 For questions about our next Leadership Pipeline Program please contact programs@hacr.org