The Alliance for Board Diversity's (ABD)[1] Missing Pieces Report, 6th edition was released on June 8, 2021. The report, a collaborative effort between the ABD and Deloitte, details changes in the composition and diversity of corporate boards. This edition of the report is especially unique, coming out on the heels of the historically momentous events of 2020. Now, more than ever, there is an outcry from customers, community members, and other stakeholders to implement sustainable, evidence-based practices that will lead to equitable change in leadership composition.
"The business case for board diversity is not new and may no longer be forward-thinking."
Statistics coming out of the report indicate that there are nearly four times as many companies with greater than 40 percent board diversity as there were a decade ago. This is just one of the indicators for the growing progress women and minorities have made in board representation in Fortune 500 boards between 2016 and 2020. In fact, the rate of change is growing as well, with the period between 2016 and 2020 seeing a greater rate of change than the period between 2010 and 2016.
"The 2020 analysis of public filings shows 200 companies with greater than 40% diversity, an initial percentage goal set by the ABD in 2004."
Hispanic representation on boards has also increased. The 2013 HACR Corporate Governance Study reported Hispanic representation among the Fortune 500 to be three percent. According to the Missing Pieces Report, that representation has grown to 4.1 percent. Latinas experienced a 31 percent increase in their representation since the release of the 2018 Missing Pieces Report.
"…Latinas were the demographic with the second-highest increase in board seats of those surveyed…" Cid Wilson
Nevertheless, the report also suggests that this progress has come at a glacial pace. At the current rate, parity with the diversity of the U.S. population among Fortune 100 boards would not be reached until 2046. Over a seven-year period, Hispanic representation on Fortune 500 board has grown by only 1.1 percent, signaling how long it may take for Hispanic representation on boards to reach parity with their representation in the U.S. population. Furthermore, while Latinas held an additional 14 seats since the release of the previous Missing Pieces Report, White women gained a much larger 209 seats over the same time period. Additionally, while Hispanic men have seen increased representation on Fortune 500 boards since 2016, their numbers on Fortune 100 boards have remained stagnant during this same period. All this points to a painfully obvious fact for diversification efforts across many sectors; there's still a lot of work to do.
"…the fact remains that progress has been painfully slow."
"The ABD and Deloitte acknowledge that the progress made on overall diversity has largely been due to the increase of White women on boards."
For over 12 years HACR has collected information on companies' governance practices with Hispanic leaders through its annual HACR Corporate Inclusion Index (CII) survey. Findings from our most recent report, the 2020 HACR CII Report, echoes data from the 6th edition of the Missing Pieces Report and its findings of persistent underrepresentation of Hispanic board members. For instance, while seven percent of all board members reported in the 2020 HACR CII survey were Hispanic, the average board of 11 members only had .8 percent Hispanic and .2 percent Latina board members.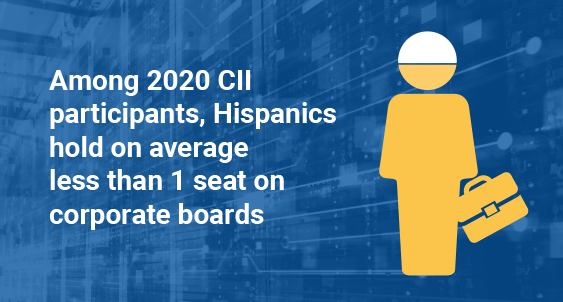 In fact, Hispanic representation on CII participant boards has hovered between seven and eight percent since 2015. Similarly, the 6th edition Missing Pieces Report, 6th edition shows that Hispanic representation on the boards of Fortune 100 and Fortune 500 companies has remained relatively flat since 2012 with most recent figures showing a 4.7 and 4.1 percent Hispanic representation on Fortune 100 and 500 boards respectively. These trends speak to the need to continue deepening our education and advocacy efforts about meaningful, impactful, and long-lasting changes companies can make to continue building on their progress with Hispanic leaders.

Source: Missing Pieces Report: The Board Diversity Census of Women and Minorities on Fortune 500 Boards, 6th edition.


Source: Missing Pieces Report: The Board Diversity Census of Women and Minorities on Fortune 500 Boards, 6th edition.
With over 80 percent of companies with no Latinas on their boards being among the most salient representation gaps gathered from the 2020 HACR CII Report, companies must realize that being intentional about how board member recruitment practices are implemented are just as important as deciding to implement them. Of the companies that participated in the 2020 HACR CII survey, 83 percent reported having a structured process to ensure that qualified diverse candidates are considered for open board and top management positions. Additionally, 67 percent of participating companies stated they require recruiters to present diverse slates to fill board and executive openings. These outcomes highlight the growing presence of practices that should increase the diversity of corporate boards, yet the return on investment for them has remained relatively unchanged for over half a decade.
"…year-over-year advances in minority representation on the boards of the Fortune 500 remain mired at less than 1% per year…"
In part, this is due to the growing recycle rate[2] among Hispanic and other minority board members. Companies looking for diverse candidates will often go to those within their networks or those they know to have previous board experience. Latinas were the only demographic group to experience an increase in the recycle rate of their board members among Fortune 500 boards. According to the Missing Pieces Report, this practice has led to nearly 36 percent of diverse board seats being occupied by people serving on multiple Fortune 500 boards. In fact, the report points out that most of the "diversification" seen in the outcomes of the report are due to the recycling of a larger proportion of existing Fortune 500 board members rather than bringing in new individuals with different skills, backgrounds, and perspectives.
"Boards may need to look at a broader set of industry experiences, C-suite roles, backgrounds, skills and experiences for potential board candidates."
In the end, it is up to companies to decide how quickly they progress on the changes to board representation that would give them the competitive advantages that come with diversity. We already know that women and minority board members are more likely to bring with them experience with corporate sustainability and socially responsible investing, government, sales and marketing, and technology in the workplace to their boards. It is only through a continual deepening for their understanding of the contributions women and minority board members can bring, and intentional implementation of goal driven practices that are regularly tracked and measured, that we'll see a quickening change to board representation. Let's hope that change comes before 2046.
Acknowledgements: I would like to acknowledge Rachael Whitten, Sunni Vargas, Kayla Baskind, Lauren Clendening, and Neliann Rivera who, along with the rest of the HACR team, helped with data collection efforts for the Missing Pieces Report, 6th edition.