The Hispanic Association on Corporate Responsibility (HACR) hosted its third annual Leadership Pipeline Program (LPP) October 27-29, 2017, at the JW Marriott in Chicago. The sold-out event welcomed over 200 attendees who gathered for a unique opportunity to develop their leadership and managerial skills through a series of candid discussions about management, leadership, personal branding, and employee resource groups, and to explore next steps to help them advance professionally. Each session was carefully designed to cater to participants at different stages in their careers. For the third year in a row, Prudential Financial, Inc. served as the host sponsor.
On Friday, October 27, participants were welcomed at an off-site reception sponsored by MillerCoors and hosted at their Chicago headquarters. One of the highlights of the events was hearing from MillerCoors CEO, Gavin D. Hattersley. The program kicked off Saturday, October 28, with remarks from HACR president and CEO, Cid Wilson.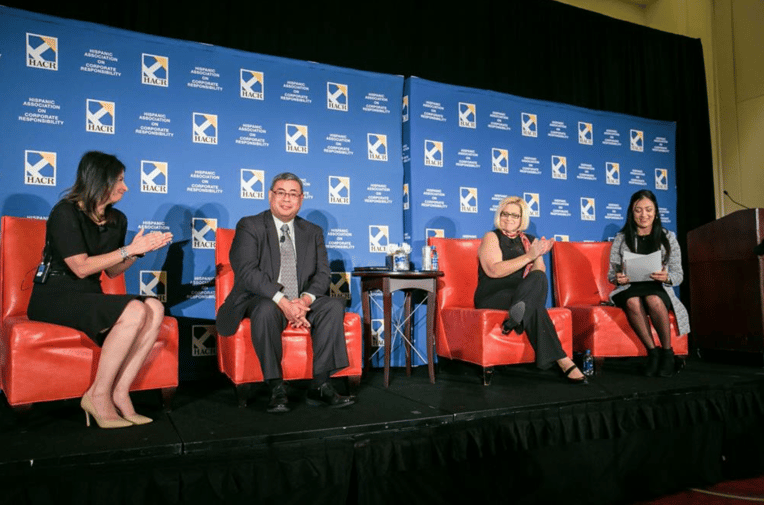 The first business session of the day titled "Navigating the Corporate Structure to Make Things Happen" featured Celeste Carrasco, director of Federal Public Affairs for AT&T; José "Pepe" Estrada, director of Public Affairs for Walmart; and Claudia B. Mills, associate manager of Sales Communications for Altria. Moderated by Patricia Mota, president of the Hispanic Alliance for Career Enhancement, the discussion revolved around purpose, service, and collaboration in the workplace. Participants also shared how they are adding value, fulfilling promises, showing courage and serving as an inspiration at their companies.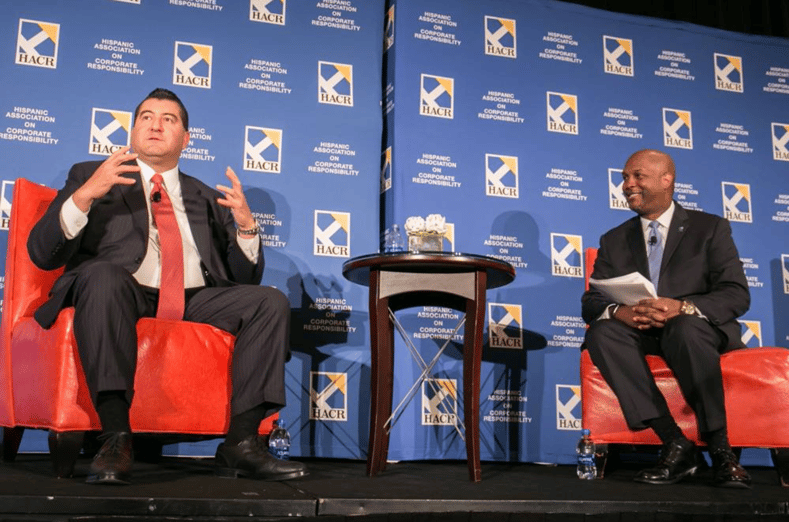 Next, participants enjoyed a fireside chat between Martin Cabrera, CEO and founder of Cabrera Capital Markets, and Cid Wilson. Cabrera shared his triumphs and failures and how he has learned to overcome challenges. He also discussed the importance of going after what you want and speaking out.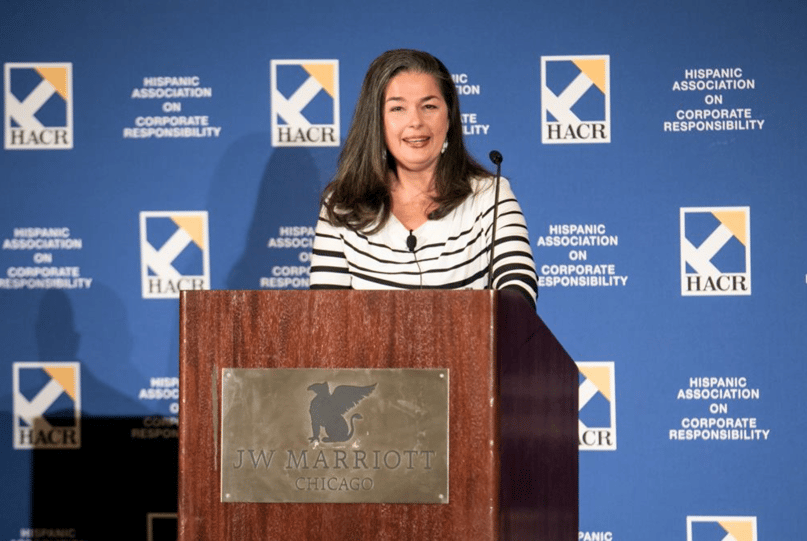 The HACR LPP Luncheon featured keynote speaker Ana Dutra, president & CEO of the Executives Club of Chicago and board director of CME Group. Dutra shared her humble beginnings and the steps she took to get to the top. According to Dutra, the most successful leaders are the ones who can ask for what they want, never underestimate the power of relationships, live their life with purpose, and pay it forward.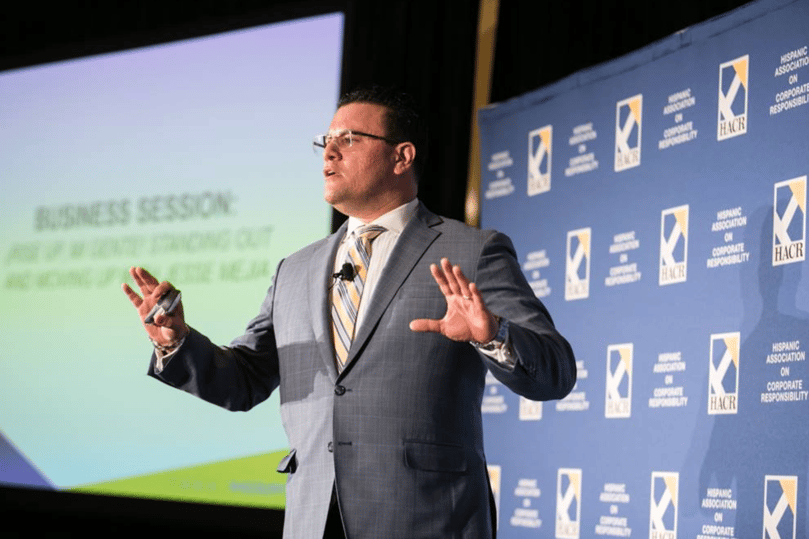 After lunch, author Jesse Mejia led the session titled Rise Up, Mi Gente! Standing Out and Moving Up. Mejia helped participants navigate the corporate structure and shared the keys to move up. Among the key elements to succeed are developing a growth mindset, shattering expectations, raising the bar before everyone else, and standing out.
The last business session of the day "Be the Leader You Want to Work For" sponsored by Bank of America featured Henry Agusti, Digital Platforms executive for Bank of America, Wil Lewis, Diversity & Inclusion executive for Bank of America, and Julian Parra, senior vice president and Business Banking executive for Bank of America/ Merrill Lynch, Pacific Southwest Region. The panelists talked about their experiences managing people and leadership best practices.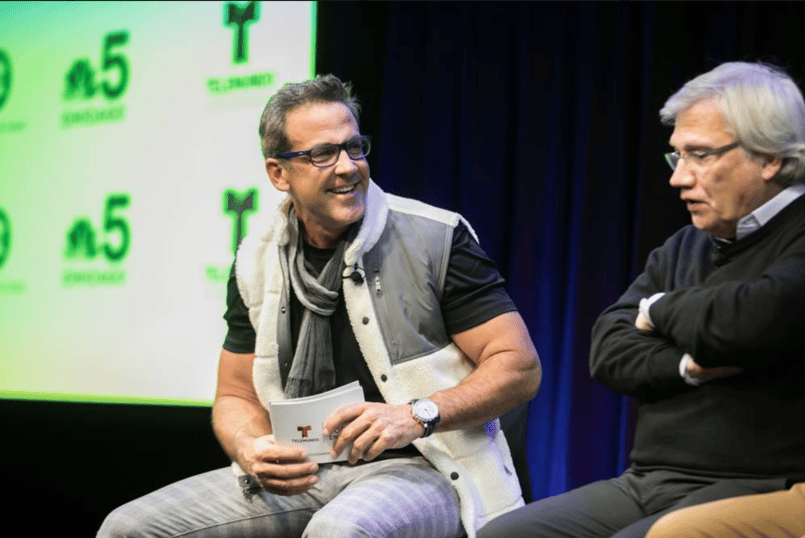 After a successful day of business sessions, participants enjoyed an off-site reception at the Google office in Chicago. The event, sponsored by Google, included a panel with Rep. Luis Gutierrez; Carlos Ponce, Puerto Rican actor, singer, composer and television personality; Sylvia Puente, executive director, Latino Policy Forum; and Carlos Tortolero, president, National Museum of Mexican Art followed by a networking reception.
On Sunday, October 29, the first business session of the day was led by Amy Gallo. Gallo provided participants with useful tools to deal with conflict and build stronger relationships at work. The last business session of the day, "Leadership Insights from the C-suite" featured panelists Hector Medina, Information Technology, Strategic Planning, and Analytics lead for Macy's; David Olivencia, managing director, Journey to Cloud Program for Accenture; and Adam Salgado, vice president of Marketing for McDonald's. The session was sponsored by JPMorgan Chase and moderated by Maria Chavez, Treasury Services head, Midwest Region & Canada for JPMorgan Chase.
The program came to an end at the 2017 HACR LPP Closing Lunch. Visionary community leader and President of the United States Hispanic Leadership Institute (USHLI), Dr. Juan Andrade, delivered a powerful speech about leadership, Hispanic heritage, and what it means to be a Latino and Latina in the United States.