As the HACR Research Institute (HRI) gears up for the launch of the 2021 HACR Corporate Inclusion Index (CII) survey, reading and research continues to includes anything and everything that may help us better understand what implications COVID will have as organizations try to recover.

---
The HACR CII takes a comprehensive measurement of the business practices and corporate strategies of participating companies around HACR's four pillars: Employment, Procurement, Philanthropy, and Governance. For this post, the reading material and/or resources we've shared here spans across each of those four focus areas.
EMPLOYMENT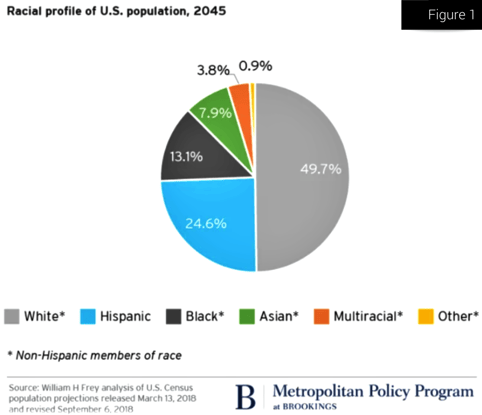 As part of the employment assessment, the HACR CII examines recruitment and hiring practices. Some survey participants have shared that sourcing and recruiting diverse talent is one of their main challenges. U.S. Census projections have racial minorities in the United States becoming the majority by 2045 (Figure 1). Given this demographic shift, and the projection that racial minorities will also become the primary demographic engine of the nation's future growth, savvy business leaders understand that recruitment and hiring of diverse talent is a business imperative, not an option.
But what's to become of an already underrepresented demographic group from Corporate America when a pandemic strikes? Wired's recent article on the setbacks faced by underrepresented college students provides insights on COVID's implications for a diverse talent pipeline in the future:
"Before the pandemic, the proportion of Black students nationwide who graduated from high school on time had risen to 79 percent in 2017-18, the last period for which the figures are available, from 66 percent in 2009-10, according to the National Center for Education Statistics. For Hispanic students, the percentage rose to 81 from 71."
Wired's article explains how the pandemic has exacerbated disparities in college attainment for underrepresented students. While overall college enrollments were on the decline prior to the pandemic, Black and Latinx students' enrollments saw gains. When COVID struck, the trajectory of progress for minority students shifted course. Loss of economic opportunities and the challenges presented by remote learning created barriers for students of color which contributed to a significant decrease in enrollments. The long-term implications for workforce development and the future of diverse talent are serious. A decrease in enrollments for students of color means fewer candidates will attain a college education – resulting in a shortage of diverse talent.

PROCUREMENT

Precise information is crucial to every aspect of a running an enterprise. One of the foundational practices that is examined on the HACR CII is the importance of tracking mechanisms and the role of data in helping corporate leaders make informed decisions – these types of assessments apply across all of HACR's focus areas including procurement.
In the supply chain, data can tell unique stories – this information can range from the types of supply partners the organization works with to the capacity and capabilities of partnering suppliers. Leveraging and analyzing an organization's most up-to-date supply chain data is an essential component of forecasting and planning for executives as detailed in MIT Sloan's recent article on Accelerating Supply Chain Scenario Planning.

This post explores how disruptions in global supply chains as a result of the pandemic have created urgency around scenario planning. Scenario planning is how organizations can think about and plan for the future. In addition to harnessing the power of information through digital capabilities, engaging in collaborative planning with partners was also discussed as an important aspect of designing better preparedness options – bringing unique perspectives together to problem solve.
"As organizations and their supply chain partners have turned to scenario planning to help them "see" actionable paths amid the pandemic, such planning has become faster, nearer term, more inclusive, and digital. Our field research has found that digital technologies, data, and collaboration with supply chain partners are central to this effort."
Also discussed were four ways organizations might integrate digital technology with data and collaboration:
Convert driving forces into local factors

Convert local factors into focal decisions

Use collaborative exchanges to improve supply chain visibility

Use collaborative information to eliminate bias
Organizations that successfully exploit their information systems as well as collaborate with supply chain partners for scenario planning will have a definitive competitive advantage for not only mitigating possible risk, but also identifying new opportunities.
PHILANTHROPY
Under Philanthropy, the HACR CII makes assessments about the organization as a corporate citizen through its many local and/or national charitable practices. Among the many discussions the HRI has had with corporate participants this past year, COVID's impact on charitable giving was one topic that came up on more than one conversation.
Several sources discuss the pandemic's disproportionate impact on underserved communities calling attention to the needs of these communities. While identifying specific opportunities for giving or investments is not something HRI readily does, we do try to provide our CII participants with referral information when questions arise. One such helpful resource is CNT's Urban Opportunity Agenda, as described on their website:
"The Urban Opportunity Agenda gives civic leaders tools to choose investments that reduce poverty, create economic opportunity, and build stronger cities."
This resource is a unique interactive tool that permits users to generate profiles on 100 U.S. cities with the largest populations living below the poverty level in 50 states. Its features include maps (Figure 2), a strategy calculator (Figure 3) and the ability to generate summary reports.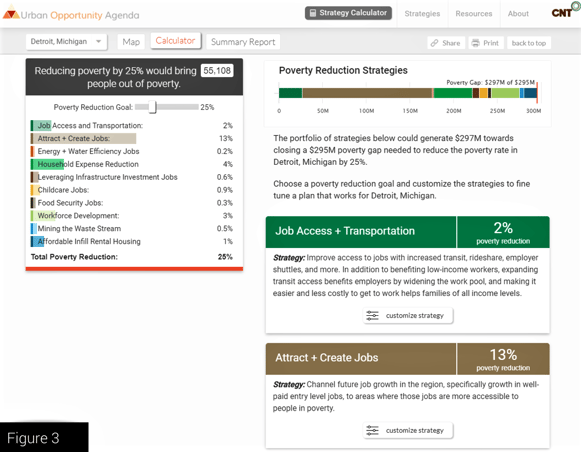 The strategy calculator is particularly helpful for planning purposes as it permits users to set goals for impacting lives across different initiatives such as workforce development and job access and transportation. It's an ideal site for helping identify underserved communities as well as investment opportunities in those communities.
GOVERNANCE

To be successful, organizations need effective leadership – that's especially true in times of economic uncertainty or a global health crisis. When the HRI examines the governance practices on the HACR CII, we look to assess not only the diversity of its leadership at the board and executive levels but also how leadership works to establish and/or promote an inclusive culture within their respective organizations.
Expanding on the importance of inclusion, with more organizations taking an interest in Environmental, Social, and Corporate Governance (ESG) principles as they pertain to improving financial performance, the role of leadership has to evolve in order to serve the interests of all stakeholders.

On the subject of leadership and the adoption of ESG concept, McKinsey Quarterly discusses the board's role in embedding corporate purpose. This article examines how board members can partner with management to create a purpose narrative with clear goals for decision-making that covers Strategy, Investment and M&A, Risk, HR and Culture, Performance Management as well as Governance and Compliance.
"Organizations that define their purpose and use it to guide their activities see a clear upside in improving company reputation, alerting management to risks early, establishing the organization as a leader in raising industry standards, and enhancing business performance."
Five insightful and distinct – build, own, assess, reinforce, and drive – action items (Figure 4) were presented in this post to help directors create purpose narratives in conjunction with management.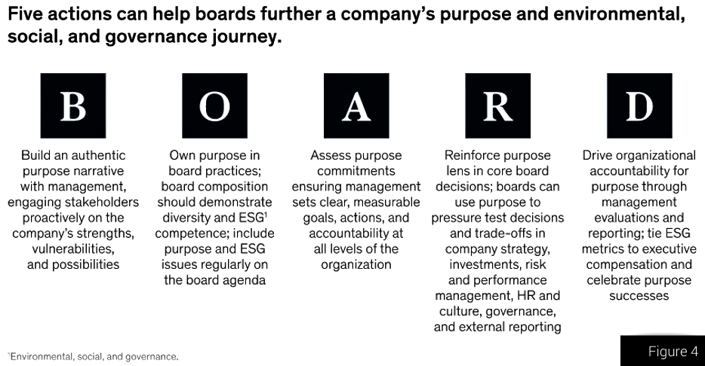 What's notable about using purpose-related considerations to guide decisions, is that it can serve as an organization's litmus test in any possible circumstance – including times when very tough decisions must be made. In prioritizing people and purpose, organizations with the support of their board of directors, can effectively lead through the most challenging of times.
---
The 2021 HACR Corporate Inclusion Index (CII) survey launches January 11, 2021. If you are interested in participating, please click here or contact us directly at research@ hacr.org.