The HACR Corporate Inclusion Index (CII) is a robust evaluation tool that companies can use to create a roadmap for diversity and inclusion efforts. It consists of over 150 questions created by the HACR Research Institute (HRI) based on years of research and engagements with Fortune 500 companies regarding their diversity and inclusion practices and the methods and metrics used to evaluate their progress. The HACR CII assesses Corporate America's Hispanic diversity and inclusion efforts in four key areas: Employment, Procurement, Philanthropy, and Governance.
---
The conversations the HACR Research Institute (HRI) has had with participating companies throughout the years it has been conducting the HACR CII, continues to reveal many interesting themes and trends. To this end, the theme of this year's report is the power of harnessing support networks and the important role support networks play in the success of diversity and inclusion policies and practices in Corporate America. The data collected from the HACR CII ultimately provides us with a "snapshot" of Corporate America's Hispanic inclusion efforts business practices and strategies of participating companies around our four pillars of economic reciprocity: Employment, Procurement, Philanthropy, and Governance.
Today, we will focus on some of the key takeaways from the Employment pillar of the 2020 HACR CII report and what they tell us about the continued progress and challenges faced by Corporate America in their Hispanic inclusion efforts.
WHAT DOES THE EMPLOYMENT PILLAR MEASURE?
The Employment pillar of the HACR CII evaluates where along the professional pipeline Hispanics are represented. It looks at things like employee demographics, ERG efforts, recruitment efforts, and professional development initiatives. It looks at whether Hispanics have been able to secure "good" jobs or whether they have been left to occupy marginal jobs because of the convergence of a variety of factors.
WHAT DID WE LEARN?
Based on the aggregate outcomes from the 2020 HACR CII survey, some of the major areas that Corporate America should continue to focus on include:
Tracking mentorship and sponsorship goals and metrics: Tracking the goals and metrics around programs that grant access to experienced leaders who can mentor and sponsor new and up-and-coming talent continues to be an opportunity for many companies. This year, 86 percent of participants reported having a formalized mentorship program while 71 percent reported having measurable goals and/or metrics for these programs. Even fewer companies reported having a formalized sponsorship program (74 percent) and having goals and/or metrics for their sponsorship program (69 percent). When companies do not track their performance in these areas, they are inhibiting their own ability to create opportunities for their employees to contribute fully, and, in the long run, this will hurt Corporate America's ability to attract and retain top-tier talent.

[1]



Hispanic non-exempt vs. exempt employee representation: The proportion of Hispanic non-exempt employees continues to be a concern, with 82 percent of all Hispanic employees reported this year being non-exempt employees. Although down two percent from the previous year, this is concerning because non-exempt employees are not typically afforded with the same benefits and access to leadership as exempt employees are. This is especially pertinent this year since the Hispanic community has been among those most disproportionately affected by the economic effects of the pandemic due to their overrepresentation in non-exempt positions.[2]

NEXT STEPS
On a positive note, 97 percent of participating companies reported having a Hispanic Employee Resource Group (ERG). ERGs are crucial networks where many Hispanic employees can find support and connect with each other, as well as with potential mentors and sponsors. What's more, Hispanic ERGs can also play a critical role in helping organizations recruit and retain Hispanic talent. In fact, 86 percent of participating companies reported leveraging their Hispanic ERGs for talent recruitment and retention.

Overall, companies should continue developing their tracking and evaluation capabilities in order to evaluate the effectiveness of their employees network resources at every level throughout the talent pipeline. In doing so, they will be able to better address and support employee needs, while also ensuring their underrepresented talent has a chance to develop fully.



CONGRATULATIONS TO THE 2020 HACR CII COMPANIES THAT ACHIEVED 5-STARS IN EMPLOYMENT
| | |
| --- | --- |
| AT&T | Medtronic, Plc |
| ADP | MetLife, Inc |
| Bank of America | Molson Coors Beverage Company |
| BMO Harris Bank | Morgan Stanley |
| Boston Scientific | Nielsen |
| Chevron | PepsiCo. |
| Cigna | Procter & Gamble |
| Comcast NBCUniversal | Prudential Financial |
| Ecolab Inc. | Raytheon Technologies |
| General Motors | Sodexo |
| Gilead Sciences, Inc | State Farm |
| Goldman, Sachs & Co. | Target |
| The Hartford | Toyota Motor North America |
| Humana | Visa Inc. |
| Intel | Walmart Inc. |
| Johnson & Johnson | The Walt Disney Company |
| JPMorgan Chase & Co. | Wells Fargo & Company |
| KPMG LLP | Wyndham Hotels & Resorts |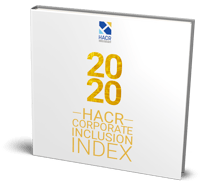 To learn more about employment trends and best practices, download a copy of the 2020 HACR Corporate Inclusion Index report here.
The 2021 HACR Corporate Inclusion Index (CII) survey launches January 11, 2021. If you are interested in participating, please click here or contact us directly at research@ hacr.org.