As the Coronavirus pandemic's devastating impact continues to spread around the world, it has recently come to light that communities of color in the United States have been disproportionately impacted.[1] The Hispanic community in particular is facing a devastating blow to its long-term physical[2] and economic[3] wellbeing. In response, many companies across the United States have stepped up to address the challenge of providing relief to Hispanic communities during the crisis. Once the dust has settled, however, employees and community members alike will wonder about the size and impact of that help.
---
You may think it insensitive for anyone to question companies' efforts to provide critical support during a time of crisis, but there are many reasons why community leaders would want to know what has been done. For one, this information will prove invaluable in identifying effective projects and strategies that should be continued in order to help the community get back on its feet. Additionally, at a time when so many of us feel powerless, it's a boost to our collective morale to know that the companies we patronize are also there to support us when we need it most.

In the 2019 HACR Corporate Inclusion Index (CII) report, we focused on this very issue. The report highlights the importance of tracking philanthropic efforts in the form of direct contributions and volunteer hours. Nevertheless, only 33 percent of companies responded that they track the number of volunteer hours in the Hispanic community and only 28 percent responded that they calculate the dollar value and impact of the hours being contributed. The importance of tracking these figures extends far beyond knowing how communities are impacted by contributions.
For many employees, a company's philanthropic investments are interpreted as an expression of their commitment to the "social good". Volunteerism is also one of the main opportunities employees have to develop the leadership skills needed to prepare them to take on additional responsibilities essential to the business. Companies that track giving and volunteerism are able to report back on the impact of their philanthropic efforts to their constituent groups and how each of them is benefiting from these efforts, contributing to meaningful change, and what steps, if any, the company is taking to improve outcomes.
With its effects on employee morale, leadership development, and public perception, corporate philanthropy has evolved beyond giving to become an investment strategy. This is a shift most companies are starting to accept and adopt into their strategic plans. In the 2019 HACR CII, more than 95 percent of participating companies reported having a strategic plan for corporate giving. When done thoughtfully and with purpose, these plans will align with companies' business priorities, employee engagement and recruitment strategies, and community relation efforts to holistically grow and strengthen both the organization and the communities they do business in.


So how do we get there? Well, you can't know where you're going, if you don't know where you've been. As a company, benchmarking in philanthropy, as in other areas, will tell you where you stand and provide an informed foundation for a goal-oriented roadmap to growth and success. The annual HACR CII measures the impact of U.S.-based corporations' philanthropic efforts in addition to their employment, procurement, and governance activity. The 2020 HACR CII is currently open, so if you're company is interested in participating, please feel free to contact us at research@hacr.org.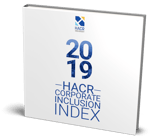 To see what else our data showed, download a copy of the 2019 HACR Corporate Inclusion Index report here.
If you are interested in participating in the HACR Corporate Inclusion Index (CII), please click here or contact us directly at research@ hacr.org.